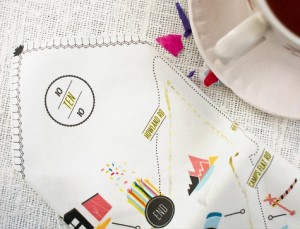 Even though I am no longer a writer for OffbeatBride.com and my wedding has come and gone almost a year ago, sweet and innovative wedding ideas always snap my attention. I'm a longtime reader of Design*Sponge and I spied this amazing rendition of a wedding invitation recently when Grace featured the idea. Uhh… stunning. I'm in so much love with these it's ridiculous.


And then TING! I realized that Grace had done something very similar for her own wedding! So charming, elegant, and in their case a true representation of them and their taste. The uses for custom screenprinted handkerchiefs are vast… directions and maps, invitations, complimentary hankie for the wedding… even (GASP!) required attire!
So I went on my own web expedition to find more examples of this quaint idea, and boy did I find them. Caitlin of Salty Oat made a handkerchief invitation pillow, and it's so darling with it's hand embroidered border.
And handkerchief invites really set the tone for this homespun and simply beautiful Cape Cod wedding. Our wedding wasn't quite so… well.. sweet. I wore fishnets and had stop sign red hair, I was unveiling my large back tattoo and letting the "girls" hang out. Otherwise, I would have totally snatched this idea right out of their cotton pickin' hands!
I even found several Etsy sellers that offered hand-screenprinted hankies and the like. I especially loved the coral and green motif of Allie Ruth's vintage printed handkerchiefs.
I'm loving this repurposed and reused idea… what do you think? Chintzy or adorable?
Share and Enjoy