I keep noticing arrows… vintage ones, crafted ones, arrows as decor. Apparently they're a design trend! And why not? They're small and colorful, a little funky and easy to hang or place around the home. They even make great kiddo room decor. Even Nicole, over at Making It Lovely, has added them to her husband's office and I think it's a "lovely" addition!
Danielle Thompson of the ever-crafty and clever Thompson Family-Life decided to DIY her own arrows for some boys room decoration… and they look fabulous! Some dowels, felt, washi tape, fabric scraps and glue go a long way my friend.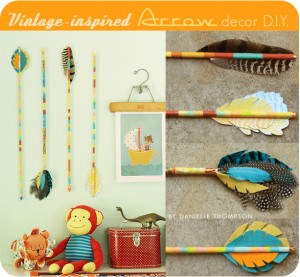 Check out Danielle's tutorial for a fun and simple how-to. I grew up in a house where several members of my family were archers as a hobby, so I'm enjoying this trend. What do YOU think of arrows as decor?
Share and Enjoy