My husband is a great cook. Anyone that spends any amount of time having drinks and niblets out at a local restaurant or coming to one of our many low-key weekend potluck hangouts knows this fact. They also know that I do NOT cook, like, almost ever.
Since my other half is the better one where the kitchen is concerned, and like myself can be mildly competitive, I've been encouraging him to participate in some local cooking competitions. Last year he won People's Choice for a local neighborhood chili competition but was irritated he didn't get voted in by the judges.
This year he signed us (me, his coworker Paul CZ, and himself) to compete in the 3rd Annual Quesoff at The Mohawk here in Austin as The Cream Team. We, with me serving as project and logistics manager, entered a spicy queso (named Baby's On Fire) and a meaty queso (named Cheezy Hot Gutz) complete with homemade Texas hot gut-style sausage. There were home cooks and seasoned chefs competing… we didn't expect to even place.
But alas, after weeks of queso preparation and research, The Cream Team was victorious! We won both the Meaty AND Overall awards! I heard mumblings of us winning the Spicy as well, but I guess they figured two awards to a gang of home cooks was enough to wound the pride of several of the other participants and take the proverbial queso crown.
WAY more people showed up than was expected and everyone ran out of queso very early. Several people hovered around our table, even during the most crowded times, to snag a taste of the rumored best queso. When we ran out, people scraped our crockpots with chips and spoons – it was THAT good.
I'm so proud of my hubs and his trusty cooking partner CZ. They put in the work and made some damn good queso! Here's to hoping that more cooking competitions are in our future….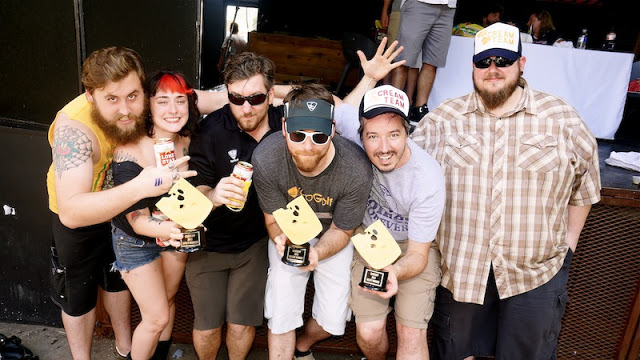 PS – You DID notice that I made a homemade bunting banner, signs for each queso, and team hats right (couple photos here)?! I mean, that's what I do. Brett cooks, I create, we rule.
Share and Enjoy