I love the TV show Portlandia. It's insanely funny, and a pretty accurate (albeit jokey) representation of the northwest as a whole. As a recent citizen of Austin, having just made the trek from Seattle to Texas this January, I TOTALLY get the humor.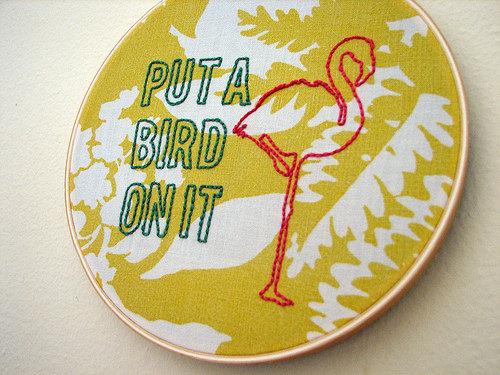 So I was inspired to tailor my embroidered art to the insanely rad comedy of the show. Now, in my shop, you will find the hilariously re-worked version of the saying "put a bird on it" utilizing a flamingo. I'm almost certain this ISN'T the bird they had in mind when they did the skit but it's my humorous spin on the idea. I've already sold one and just relisted it for sale.
What do you think about making this a series of embroidered art? Perhaps one with an owl, one with a dodo etc? Do tell my dear crafters (and lovers of craft items)!