The Cream Team is on a roll! Fresh off the Chili Bowl win, Brett and his cohort Paul CZ entered the Mac and Cheeze Takedown at Shangri-la. Weeks of preparation helped Brett refine his ultimate cheesy recipe, and consequently made me utterly sick of it (a feat I never thought possible).
He found his secret ingredient, tested many kinds and ages of cheese, and concocted many different toppings before finally deciding on the right set of ratios and ingredients. A special thanks goes out to our friends Dollie and Alan for being the cheesiest of guinea pigs!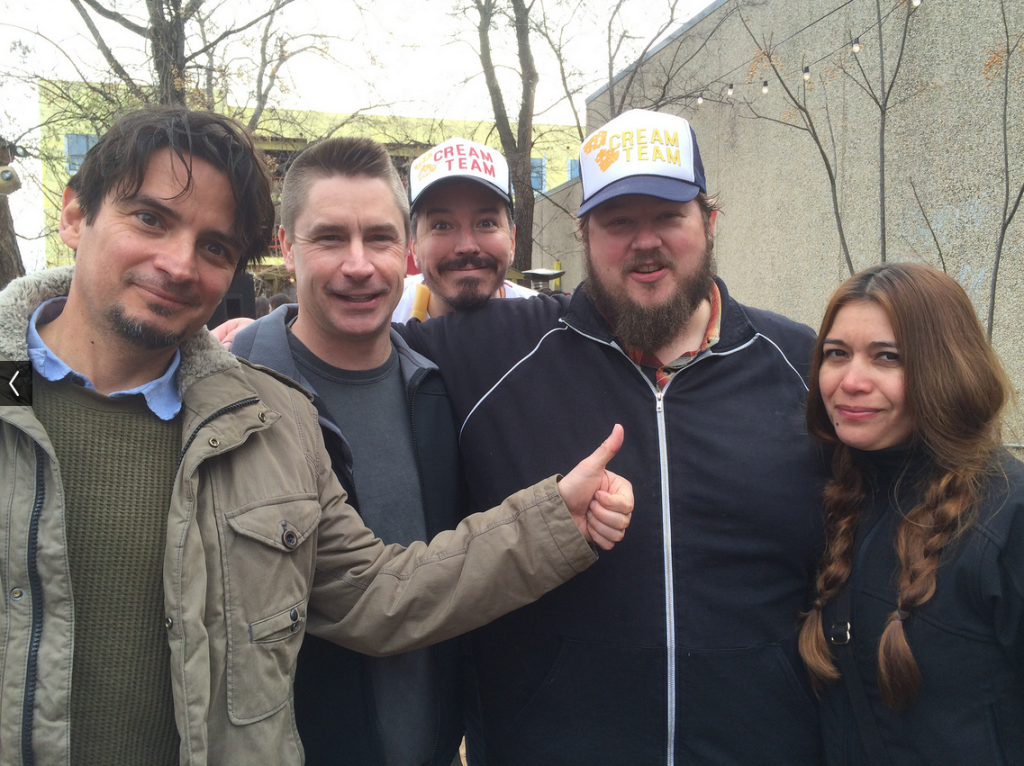 And whaddya know it? The Cream Team won! They won the 1st place People's Choice Award, with a haul of kitchen gear (including a 12 qt food processor) as the spoils.
"Cream Team won first place for a delectably smooth concoction entitled "Science B-tches." The secret ingredient? Sodium citrate, which turned the six-cheese blend of vintage cheddars to a Velveeta-like consistency (the same duo just won the Quesoff this summer, too)." – Austin Culturemap
First, the Quesoff, then the Chili Bowl, and now this?! I'm a proud wifey and  the ultimate taste-tester.
Our friend Mary made a DELICIOUS mac and cheese ice cream sundae that knocked my socks off and she nabbed a pretty prize herself!
And just for all you cheesy lovers, here's the recipe:
'Science, Bitch' Mac and Cheese by The Cream Team (Brett Spangler and Paul Czarkowski)
Makes enough to feed 6-­8 people.
Ingredients
530g (about 2 1/4 cups) whole milk
22g sodium citrate
350g Tillamook Extra Sharp Vintage Cheddar, shredded
280g extremely sharp Cheddar (1­2 year old), shredded
140g Gruyere, shredded
454g (about five 16oz boxes) dry pasta of your choice; shells or pasta with texture work great!
1 cup (two sticks) butter, melted
2 large sweet onions, diced into small/medium pieces
4 cups slightly stale sourdough breadcrumbs
Olive oil
4 cloves garlic, minced
1/4 cup parsley, minced
1/2 lb bacon
Fresh cracked pepper
Jalapeno powder
Cayenne powder
Directions
Preheat your oven to 375 degrees.
Pasta
Cook pasta per directions on package until al dente. Drain the pasta and shock it in ice water, then toss with 1/2 cup (half the called-for amount) melted butter. Melt 1/2 cup butter in a sauce pan over medium heat. Add onions and cook over low heat until the onions are caramelized and gooey. Add salt to taste. Mix pasta into the onion mixture.
Sauce
Add the milk, sodium citrate, jalapeno powder, cayenne powder and fresh cracked pepper to a three quart or similar sauce pan over medium heat. Bring to a simmer. Add shredded cheeses to the milky mixture one handful at a time and whisk until melted. Once the cheese has been incorporated into the milk mixture blend it with an immersion blender (stick blender) for 30-45 seconds, or until the cheese/milk mixture is completely emulsified.
Bread crumb topping
We made our own bread, but you can use any high quality sourdough that is a day or two old. Mix the bread crumbs, olive oil, garlic, parsley, and salt/pepper to taste in an oven proof pan or baking dish. Bake at 375 degrees until lightly toasted, about 15 mins.
Bacon topping
Chiffonade, or slice into short little ribbons, the bacon. Deep fry in canola oil heated to about 325 degrees until crispy. Fold the cheese mixture into the pasta mixture until well coated. Salt to taste (ours didn't need any at this point). Top each serving with breadcrumbs and bacon. Enjoy!
Share and Enjoy