Rubber Gloves Rehearsal Studio is dead and gone. I have FEELINGS about this, as I've detailed in typically long-winded fashion.
It's taken me a long time to get to this post. I didn't really know what to say about the venue, the shows, the things I learned while just being alive inside the structure and by hearing the often raucous and strange sounds coming from the stage. I still don't know how to put it all into words. Maybe I'm just lazy… but more likely, it was just a big ole thought process to sort through and a melancholy goodbye to have to make.
---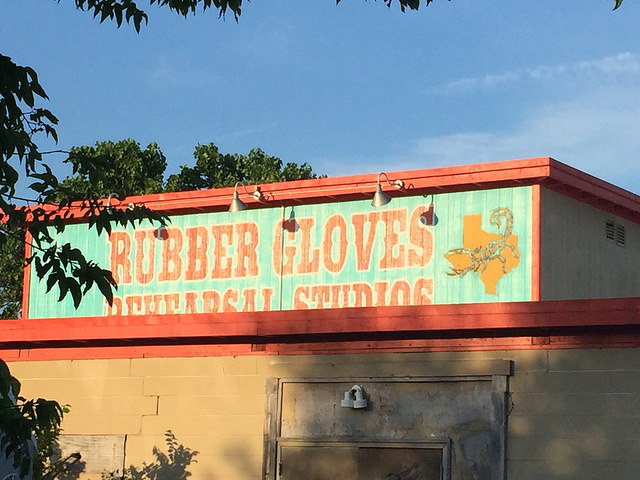 I like to think that many people grew up at Rubber Gloves Rehearsal Studios, in a way, whether that was through working there, attending shows, or renting out the practice space onsite. Somehow that ramshackle building full of weirdos was a home of sorts to so many Dentonites who came for college, for small town life, or who were born and bred lil D'ers. RGRS. and the shows that took place inside, was indicative of a special ethos and culture in Denton, at least it was for me during those fateful five years, of unrestrained, brazen musical (and personal) exploration.
The building was small, perpetually stuffy and blazing hot inside. You had to cross an old set of train tracks to get there, and the sound of the train was another important ingredient to Rubber Glove's magic. Just the act of walking, or driving, across those tracks, stepping away from the meat of the city into that dusty corner of Denton, felt like a departure of sorts but also an exciting arrival. As soon as you crossed the tracks, if it was night time, the pulsing and crashing of music inside and the bubbly laughter of outdoor smokers was apparent. From one world into the next.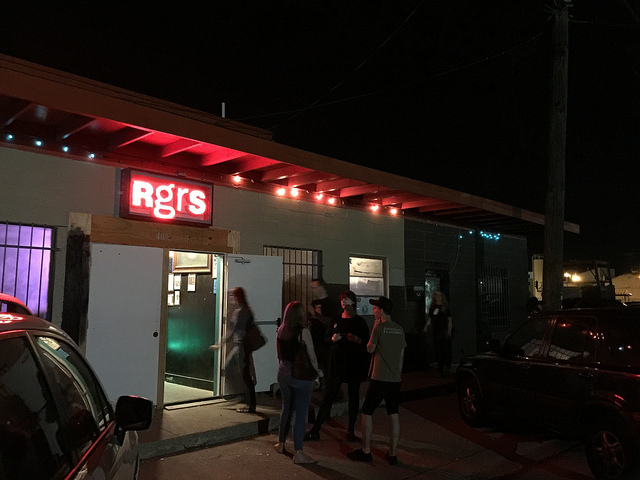 A boss at the chain books/music/video store I worked at in high school had already started me out on music I would never have heard otherwise out in east Texas. He played artists like MC Paul Barman, De La Soul, DJ Shadow, Afrika Bambaata, and more, out in my Camaro, doors flung wide, music as loud as possible. He was a key ingredient in my future, unknowingly so, and I feel tons of gratitude for those tiny slices of time spent with him.
I started seeing shows at Rubber Gloves my freshman year of college. Another dude (we'll call him J) entered the scene, albeit in a very different way, and became a big part of my life as well, crafting and molding my impressionable country mind into one of a burgeoning music explorer.
One night during my freshman year I went to a party with my best friend. We didn't know anyone there, and they proceeded to feed us Everclear cocktails (unbeknownst to us). We got HAMMERED. Some things happened, and I accidentally (purposefully) wooed a gentleman in an orange Tripping Daisy shirt (I had recently developed a love for the Dallas band's sound) and cajoled him into spending time with me. My forceful drunken act turned into a years-long 'thing', and friendship that has lasted long past. This dude, J, ended up being a humongo influence in my life, musically and beyond. He introduced me to the likes of Boards of Canada, Melt Banana, Sleep, Neutral Milk Hotel, jazz (in general), Olivia Tremor Control, local Dallas/Denton bands like Adventures of Jet, Baboon, Centro-matic and many many many more. He started me on the path of music nerd-dom at the ripe old age of 18.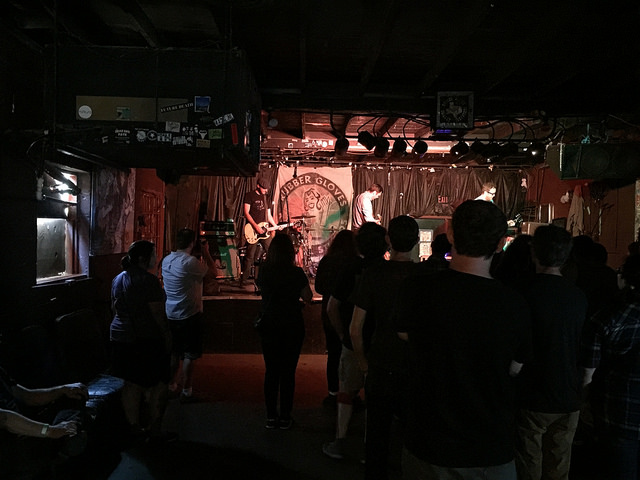 J started taking me to Rubber Gloves Rehearsal Studios, where I saw a cavalcade of important, mostly independent, rad-ass bands. Along with my best friend, J, and a slew of other close friends, I frequented RGRS on a weekly basis for years. I partook in Big Ass Beer Nights on the regular, got stomped on by Yasuko Onuki of Melt Banana, saw J pass out face first onto the concrete floor, made out with multiple people, bummed cigarettes off of Brent Best (of Slobberbone) and smoked them outside in the balmy Texas weather underneath that red glowing RGRS sign, and even met my husband there (when I was there with another dude, who has remained a lovely friend).
I went on to work at a small record store, Seasick Records, in Denton, start writing about music for various blogs/websites upon my post-collegiate arrival in Seattle, interned at Sub Pop Records, and continue seeing shows anywhere I could, usually getting in for free. It all started with my old boss, continued and blossomed with J, and was further ingrained because of the grimy genius of a simple music venue with no A/C and terribly gross bathrooms.
I don't owe it all to Rubber Gloves, but I owe a lot of who I am to the times I spent there. When I heard it was closing, the pang of disbelief was strong. How could such a revered institution close just like that, leaving all of its devotees hanging? The answer, of course, isn't any easier than the question and is a somewhat private matter of the club's owner, who definitely did not want to close the club.
Brett and I went to the last weekend of shows, the Saturday set, with grieving hearts but smiling faces. We saw people we knew and had forgotten, long lost friends, acquaintances who we now felt more of a kinship with, and made a couple of new friends, all within the span of one night. I took the time to look at everything, to visit the nasty bathroom one more time, to look into the face of Josh, the owner, as he wearily trudged up and down the stairs with boxes of what I can only assume are residual dreams and sad goodbyes. I bounced my head to the music and enjoyed seeing some old faves and new stalwarts of the scene, and I cried a little. Walking away from RGRS that night, right at the train track crossing, I turned to see that glowing sign one more time, with feelings of both sadness (where will all the young 'mes' go to find their music?) and gratefulness (if not for J and RGRS, what would I be now?)
It was an end of an era, not just for me but also for Denton. New clubs and venues will pop up, thrive, and leave, as usual. The town and its cavalcade of freaks seeking liberal refuge from tiny towns (like I was) will continue to exist and grow up and move on. The spirit of that place will live on I hope, as long as we want it to. It seems silly to lament over a building, a broken-down crusty building at that. But I guess it's more than just a building. And everyone who went there, who was imprinted with its history, relevance, and spirit, knows that.
Farewell, godspeed, good luck. xxxooo
All images courtesy of my and Brett's Flickr pages.