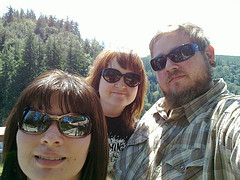 Brett's niece Teresa was in town visiting us this past week, that's why I've been kinda M.I.A lately. She just graduated high school and this was kind of her inaugural trip into the real world, so to speak. I think she had a TERRIFIC time!
We gave her the visitor's tour, hitting up Pike's Market, Paseo's (home of the best sandwich in the whole entire world), Alki Beach, Seward Park, Wallingford, Ballard for shopping and cupcakes, a Cascade Mountains drive-through and even a gander at Snoqualmie Falls.
Brett even attempted to pass on his obsession for canning to Teresa by engaging in a marathon canning session. It was in the 90s that day (and today!), and even hotter in a kitchen with boiling water on the stove and the oven going full blast, but they suffered through it, canning well into the night. Now we have plum and peach jam! He also pickled some multi-colored carrots that, reluctantly, bled out and made the liquid in the jar an odd color. I'm sure they're delish though. Do you do any canning during the peak veggie/fruit season?
Share and Enjoy