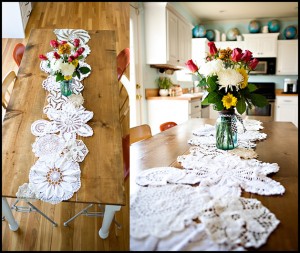 doily image source : Craft
Or maybe they are… check out this FAB idea for a simple, economical, elegant yet homespun dining room decor idea. I'm totally into granny chic, and would make this table runner in a heart beat.
IDEA! : What if you sewed a bunch together in a free-form style and hung it on the wall? Kind of like an heirloom quilt or piece of art?! *hearts*
I recently created my own doily project for Offbeat Bride. They look great as event buntings, nursery decor or above a bed! And, whaddya know… it's up in my Etsy shop. I never thought I'd say this… but I think I love doilies.
Share and Enjoy