So we've closed on our house and are in the process of acquiring the multitudes of "house stuff" that we need. Since we didn't use all of our downpayment money for the downpayment, we have a little bit of wiggle room. Instead of getting sparkly new countertops (we'll do that in the summer with our work bonuses) we opted for brand spanking new appliances! Stainless. Fancy. Brett's going to be doing a LOT of cooking with our new doo dads. And hey look! Our new stove comes with both a chicken nugget AND a pizza button. Neat. (guffaw)
We're also going to do a little painting, some storm door installs, more attic insulation and some house weatherizing. For the attic insulation and the weatherization we'll get a bit back from the city energy company to help compensate for the cost. Plus, our utility bills shouldn't be quite as high as they normally would. Which is good… have you lived in Texas in the summer? Yeah.
We bought this cute buffet hutch thing from Modern Salvage here in Austin, and we think it will be just DARLING in our open kitchen/dining area. I want to put our vintage mugs, antique percolator and other fun kitcheny items in the top glass shelf area. I've been on the search for the perfect, affordable vintage dining table but so far have come up empty. In lieu of vintage we may purchase one these expensive (I'm kinda cheap, okay!?) Industrial Dining Tables from West Elm, though I wanted this angled leg table because it was expandable AND cheaper. But now it's discontinued. BOOO.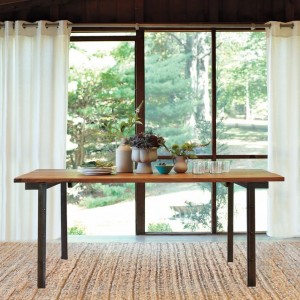 True to my crafty inclinations, I'm also slowly working on a larger-scale embroidery of the front of our house. I wanted to commemorate our first house purchase! I'm excited to get it finished, though I'm in the very beginning stages of making it. I can't wait to hang it up on the wall of the very first house we have ever owned!
Share and Enjoy