This isn't a food blog. That's really my husband's forte. But I couldn't resist posting about one of my favorite meals growing up that has stuck with me way into adulthood! It's easy, cheap, and something I can make for myself when hubby (ahem, the chef of the household) is gone away out of town on business. I actually made this for myself last night, as Chef Brett is in Seattle for business this week. It's great as a lunch take-a-long as well!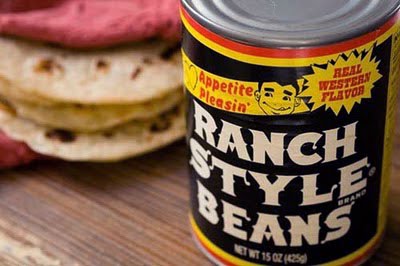 Now, if you aren't from Texas you may not understand the importance of the much-revered Ranch Style bean. I will admit, albeit not entirely pridefully, that I've eaten Ranch Style beans mixed into macaroni and cheese, with tortilla chips, poured over rice with cheese, and most often in a salad with Fritos. Yes, Fritos. Behold the infamous Ranch Style Bean Frito Salad…
*I'm super intrigued by fave Lisa Fain's, of the Homesick Texan, homemade Ranch Style bean recipe!
Ranch Style Bean Frito Salad
Some variations exist. I've noted how WE make it at home, though the traditional recipe is slightly different. I'm sure French dressing would work and straight pinto beans would taste fine… I just prefer it this way.
A big ole thing of salad (mixed greens, kale, spinach, romaine… whatever you prefer)
1 red onion, chopped
1 large tomato, chopped (or cherry tomatoes cut in half)
1 cup cheddar cheese, grated or cubed
1 can Ranch Style beans (jalapeno or sweet onion variations can be used) — DO NOT DRAIN!
1 small bottle Catalina salad dressing
1 bag (regular size) Fritos
Optional Add-Ins
thinly sliced radishes
fresh corn
chopped avocado
thinly sliced pepperoncinis
jalapeno slices
chopped bell pepper
queso fresco or cotija
Toss the greens, onion, tomato, cheese and other add-ins together in a big bowl. Dump in the Ranch Style beans (including most of the can sauce if preferred – which I DO prefer). Dump in the Catalina dressing and Fritos based on your dressing to corn chip to salad to bean preferences. Using a large spoon or similar, gently toss/fold the wet ingredients into the previously tossed ingredients.
Serve in individual bowls and garnish with a sprinkle of sea salt and several cracks of fresh pepper.
This, my friends, is tasty and trashy in the most southern of ways… I love it! It's a dish that even this wife, whose specialty is mac and cheese with tuna and peas, can master. Long live Ranch Style beans!
Share and Enjoy